Joy of Florence offers experienced, entertaining, professional and friendly tour guides, with a serious archaeological and art historical background and a very enjoyable attitude.
You can visit the UFFIZI GALLERY, the CITY CENTER and the OLTRARNO SIDE Museum with a true art historian. And everything will be more real, easy and exciting.
Our tours are private or semi-private.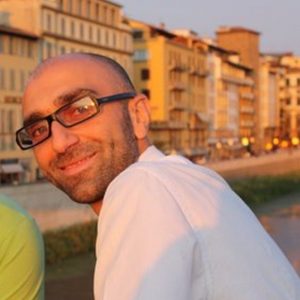 Angelo
Buongiorno, My name is Angelo and Florence is the city I'm profoundly in love with.
I have a degree in Classic Archaeology with a specialization in Didactics, so no wonder why I am a Licensed Tourist Guide.
My clients, guests as I prefer, always tell me how enthusiastic and passionate I am and that I bring History and Art to life. I truly believe it is because this City inspires me everyday more and more.
Sometimes it seems I am obsessed with history, the biggest gossip in the world, which I do savoring with a nice glass of Prosecco. All of this while trying to find the best restaurant in town.
My ideal tour? Fun and educational, entertaining and concrete.
I started "Joy Of Florence" because … Life is to short not to tour well!
Consuelo
Have you ever felt, when you arrived at a completely new and unknown place, which is really where you have always belonged? That's what happened to me when I arrived in Italy.
Ciao a tutti! My name is Consuelo but you can call me Connie.
In 2010 I landed in Rome to study, but I felt this as my home and I stayed there … (Forever?)
Of course not! My soul needed to fly and I jumped, years later, in Florence. New city, new challenges!
At university I studied art history and in the eternal city I discovered my true vocation: To be a professional tour guide! So I specialized first in Rome and then in Florence.
I am a passionate traveler, I love visiting the sights of each place and I have consumed hundreds of guided tours. Being on the other side has helped me a lot to empathize with visitors and understand their needs. That is why my goal as a guide is not only to transmit the beauty of the heritage, its transcendence for our culture and the importance of take care and preserving it; but also that our customers have fun and make your visit a unique experience.
I consider myself a very lucky person for living and working in what I like and where I chose.
I think that Florence is like the intense Italian coffee, better if discovered at low heat and savored calmly. Revealing its corners, its charm, its aromas, its character, its customs, its beauty … its essence, step by step and hand on the hand with a person who knows and loves it deeply, stops being another activity to become an extraordinary experience that remains etched in the memory … and that is a very serious responsibility. 🙂